What's the cause of Judith's atypical femoral fracture?
A sudden snap at 'the dreaded black line'.
Judith, a normally sprightly independent 73-year-old woman, presents initially with a three-month history of constant anterior right thigh ache.
Relevant past medical history includes rheumatoid arthritis currently in remission and osteoporosis — for which she had taken alendronate for five years, followed by a two-year 'drug holiday', and more recently, five years of denosumab. 
An X-ray demonstrates a stress fracture in the lateral cortex of her right proximal femur (figure 1).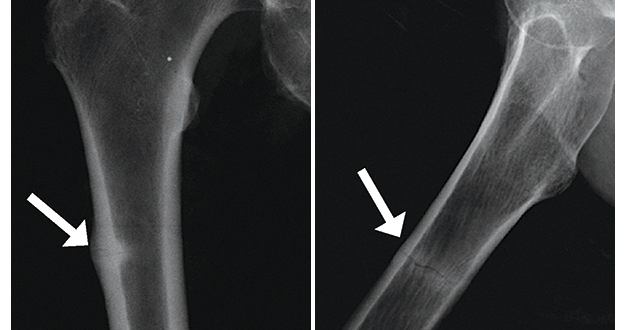 Figure 1. Stress fracture of the lateral cortex of the right femur. Note the endosteal and periosteal reaction (arrow, image on left) and