Woman scalped by spinning machine
It's the second case ever reported in Japan.
No, this is not an eerily lifelike Halloween mask; this is, in fact, a woman's scalp — ears and all — ripped off in a horrific industrial accident in Japan.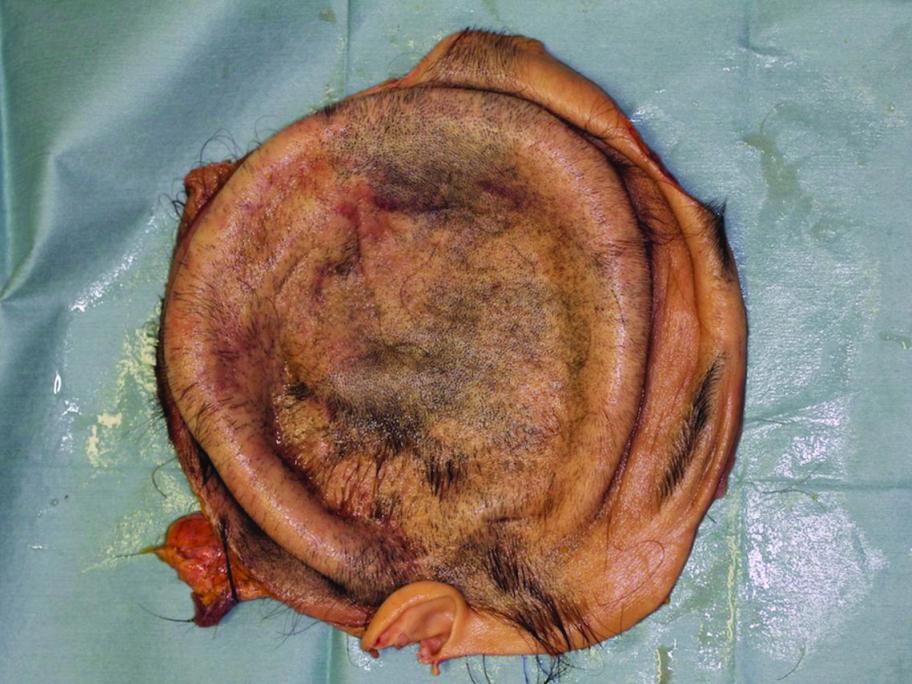 The 64-year-old was not wearing a helmet when her long hair was pulled into a cotton-spinning machine, tearing her scalp from the top of her nose, the upper third of her ears and all the way down the back of her head.
The woman was rushed to hospital, where doctors performed an emergency replantation.
Revascularisation of the avulsed scalp was carried out within just four hours of the initial injury, according to an article published in BMJ Case Reports.
Direct anastomosis of the right superficial temporal artery (STA) and superficial temporal vein (STV) was possible because of their sufficient size; however, the left STA and STV were narrow and short, so the additional anastomosis resulted in much less blood flow.
Doctors were unable to repair any nerves in the patient's scalp.
Two months after surgery, the wound had healed well and hair was evident.
Interestingly, the postoperative hair growth reflected the difference in blood supply to the scalp, with greater growth in the right temporal area.
Despite the lack of nerve repair, at one year, the patient had regained sensation from the frontal to parietal region and recovered right eyebrow movement.
"This report provides additional proof that a totally avulsed scalp can be salvaged with anastomosis of one artery and vein in cases where multiple arterial anastomoses are not possible," her plastic surgeons wrote.
"To our knowledge, this is the second reported case of successful treatment of total scalp avulsion in Japan."
---
More information: