Hacked: how a GP created his own 'pancreas'
COMMENT: I've been living with diabetes for 25 years; this is the best thing that's happened for me
Tired of waiting for a solution, hackers with type 1 diabetes are creating 'artificial pancreases'. These self-described 'loopers' include Dr Kenny Clark, a GP in Townsville, Queensland. He explains what he did and how it changed his life.
---
"It all started a year or so ago when my endocrinologist said 'here's something to look into' and gave me this hashtag: #Wearenotwaiting. 
I had little idea what it was about but when I went on social media, suddenly a whole new world opened up to me.
It turned out there was this open-source software that augments the software that comes with insulin pumps.
With it you can create a looping system between the pump and your glucose monitor.
I did find stumbling blocks when downloading the software. Thankfully, within 30 minutes of posting on the Facebook groups, I would get 20 comments explaining the fix.
Once I got it sorted, I effectively had a loop algorithm that analyses my sugar level every five minutes via my continuous glucose monitor (CGM).
---
Related news:
---
Based on the carbs and insulin on board, and velocity of change in the CGM, it can predict where my future sugar level will be.
If the level is out of my set range, then the insulin pump increases or decreases the insulin infusion. 
I still have to bolus for food so I input the amount of carbs I eat into the program and the algorithm will adjust my pump's insulin infusion based on the CGM response. 
I've been living with diabetes for 25 years now and I can honestly say that looping is the best thing that's happened for me. Every day, I wake up and my sugars are at 5.5mmol/L. 
Unfortunately, running a CGM system and an insulin pump is expensive. CGM is subsidised for under 21-year-olds, but for the rest of us, it costs anywhere from $2000 to $6500 a year.
Without insurance, a pump alone costs about $10,000.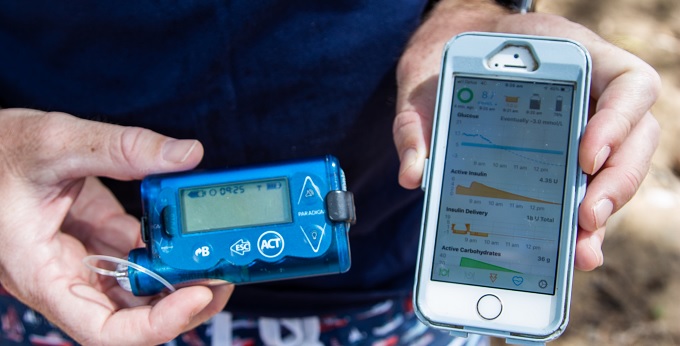 However, loopers are now doing "build workshops" in big cities where people turn up with their laptop and spend 3-4 hours building the loop.
There have been 20 people building in one day on occasion, so there must be comfortably 100 loopers in Australia already, and probably more. 
As a doctor, I want to tell my patients about looping but I can't endorse it just yet. It has not been through the TGA system, it's not been officially approved for ­therapeutic use so doctors could be open to litigation should they endorse it.
But I do think it's important that other doctors realise that patients might be looping and it's only growing in popularity."
Video: Watch Dana Lewis, one of the creators of the DIY looping system, discuss how the idea was born.