Hospitals told: Don't write to GPs, write to patients
This should help patients better understand what's going on, says new UK guidance
GPs in the UK will no longer receive letters from other specialists; instead they'll get copies of letters written to their patients, under new guidance.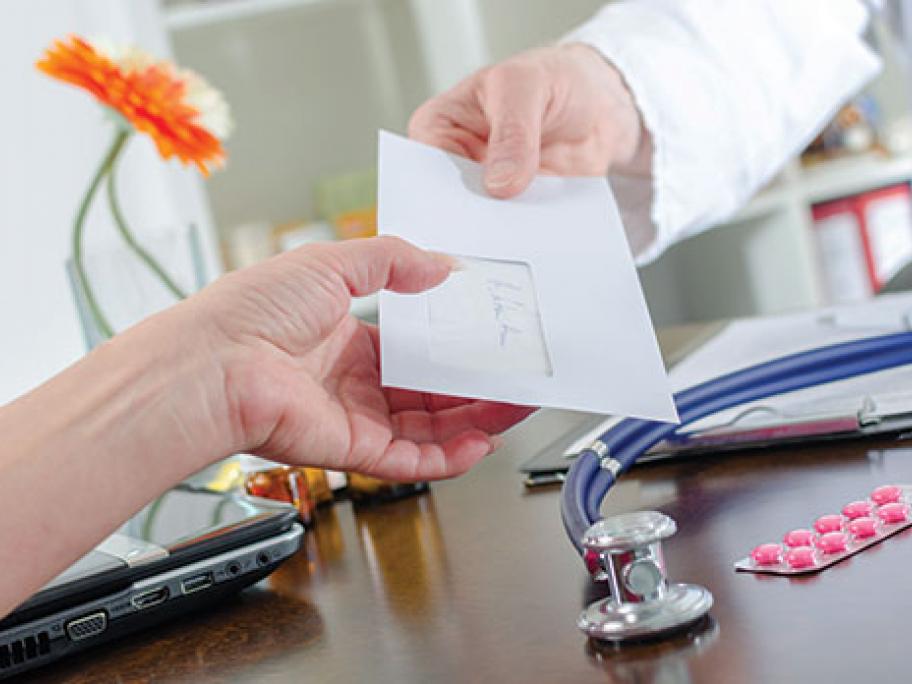 The concept — which is not mandatory but considered best practice — aims to help patients better understand what is going on and to make them feel more supported, according to the Academy of Medical Royal Colleges.
"Writing directly to the patient ... should also avoid awkwardness caused by writing about patients in the third person," the academy adds in a new report.
It has told hospital doctors to ensure the letters contain everything the GP needs to know, including all relevant facts and details of the patient's management plan.
"[GPs] should find this easier to understand and should have fewer patients asking them to explain what the hospital doctor has written," the report says.
GPs should only rarely receive a letter written specifically for them, according to the guidance.
Otherwise, they will simply get a postscript note on the patient's letter.
The exceptions to the letter are unexpected and potentially upsetting test results, which the guidance recommends delivering over the phone.
Dr Ines Rio, the GP liaison officer at the Royal Women's Hospital in Melbourne and chair of the North West Melbourne PHN, says she would not like to see the idea introduced into Australia.
"I think the philosophy of patient activation, where a person actually knows what is happening with their care, is really laudable. And I think that the provision of patient-appropriate information on discharge is absolutely crucial as well.
"But I think it is actually pretty misguided to believe that the same level of clinical information is required.
"When you are writing consumer and patient information, you usually target it at reading levels of year eight or year nine. So the idea that you can actually give a meaningful discharge summary in a complex health environment that is meaningful for a patient is actually fairly misguided.
"You have to have specific patient information, but at the same time you need meaningful medical information for the doctor and that won't be the same thing."
Here is an example letter from the UK guidance.
"You recently came to the Rapid Access Chest Pain Clinic because of increasing breathlessness on exercise and chest pains.
When climbing hills or stairs, you get short of breath but have no tightness in the chest.
You have palpitations once every couple of days but no dizzy spells or blackouts.
The swelling of your legs and breathlessness when lying down at night have improved with water tablets, and you can do all your normal activities but at a slower pace.
I was very sorry to hear that your sister recently died at the age of 47. You are waiting for the results of a post-mortem examination.
There were no signs of fluid on the lungs or heart strain, but your legs were still swollen to the mid-shins.
I recommend you restart the water tablets to clear this (furosemide 40mg once daily).
A copy of this letter will go to your GP, who can discuss your medication with you.
An echo scan and MRI scan suggested you may have abnormal protein deposits in your heart muscle, a condition called amyloidosis. I have arranged blood and urine tests for this protein (serum immunoglobulins and electrophoresis, urinary free light chains) and an outpatient 24-hour heart rhythm monitor.
The next step is to take a biopsy from your back passage to look for the amyloid protein.
I will arrange for this to be done by one of our surgeons, I hope within the next four weeks. If this does not give us a diagnosis, we may need to do a heart muscle biopsy.
As we discussed, if the diagnosis of amyloidosis is confirmed, the treatment options may be limited. We may refer you to a specialist centre in London to get the most up-to-date advice.
I will write to you again when I have the results of the blood and urine tests."