PSA names Pharmacist of the Year
Winners each receive a $9000 education grant
John Jackson, an advocate for an expanded role for pharmacists, is the 2018 PSA Pharmacist of the Year.
Mr Jackson is the director of Monash University's Project Pharmacist, which is researching new pharmacy roles within the health system.
Recently, he helped save a pharmacy community health centre in Melbourne after state funding for the pharmacy service was axed.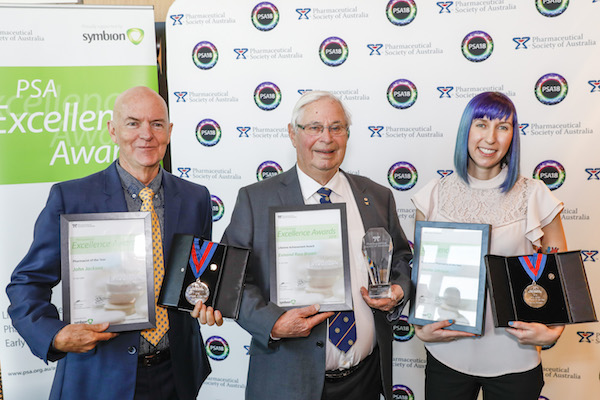 Mr Jackson began his career in a range of Melbourne hospitals.
He then set up a PBS hospital pharmacy to provide dispensing and clinical pharmacist services to private and public hospitals.
Mr Jackson has spent nearly 30 years helping to develop medication charts and developed the first Federal Government-approved chart, which included overlaid PBS prescription forms.
---
The other PSA Excellence Award winners are:
Dr Jacinta Johnson, Early Career Pharmacist of the Year
Dr Johnson was recognised for her outstanding leadership skills, which saw her elected to the SA/NT branch of the PSA.
Her leadership has attracted other young pharmacists to the PSA and made the SA/NT early career pharmacist group the most active in the PSA.
Dr Johnson has experience in community and hospital pharmacy, and research.
Last year she was awarded the most outstanding poster at the 2017 International Pharmaceutical Federation conference for research related to codeine upscheduling.
Ross Brown, Lifetime Achievement Award
Mr Brown has been described as the founder and driving force behind the formation of the national PSA.
He served as president of the Pharmaceutical Society NSW between 1970 and 1972, and saw the need for a national pharmacy organisation.
Mr Brown was PSA national president between 1979 and 1980.
---
PSA president Shane Jackson said the awards celebrated the "pioneers" and the pharmacists leading the way in innovative practice.
The three pharmacists each receive a $9000 Symbion Education grant.