Shock jock: How men used to treat erectile dysfunction
It was like an ab-toning belt, but for your genitals
Long before the little blue pill, men went to all sorts of lengths to treat erectile dysfunction.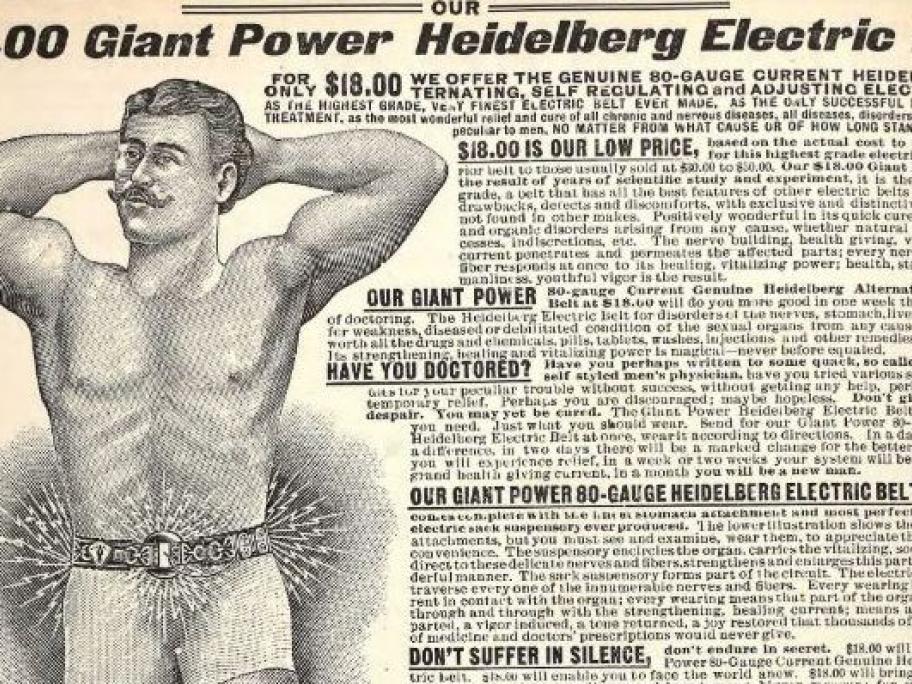 The male affliction was often blamed on moral weakness and remedied by anything from ancient aphrodisiacs to radium suppositories (which, while unlikely to improve impotence, did confer on the patient an irradiated colon and a 'healthy glow').
But perhaps the most shocking prescription was electrotherapy — the use of electricity to jump-start the genitals back into working order.
Since the mid-18th century, a fascination with bioelectricity meant desperate, and somewhat gullible, male patients were subjected to electrified beds, galvanic baths and electric belts.
Questionable merchants marketed these mail-order belts as a certain cure for "all diseases, disorders and weaknesses peculiar to men".
The devices held numerous electrodes, often with a suspensory sack, and claimed to restore sexual power to the wearer.
According to an advert for the popular Heidelberg electric belt in the 1902 Sears catalogue:
"Every nerve, tissue and fibre responds at once to its healing, vitalising power; health, strength, superb manliness, youthful vigour is the result."
Of course, as medicine progressed and physicians gained a better understanding of the psychological and physiological causes of impotence, electricity was replaced with pharmacology.
In recent years, however, urologists have started exploring the role of low-intensity shock wave therapy for treating erectile dysfunction. In fact, a systematic review of this therapeutic method was published in 2016 in the journal European Urology, with promising results.
The idea is that low-acoustic sound waves are sent through the penis, stimulating the growth of new blood vessels — which, while loosely based on the original idea, seems far more appealing than a treatment akin to hooking up your nether regions to a car battery.
---
More information: European Urology 2016.