Vale to Primary founder, Dr Ed Bateman
On the eve of his funeral in North Sydney, Australian Doctor remembers Primary Health Care founder Dr Ed Bateman, a man who turned a simple concept into an innovative and lucrative way of practising medicine.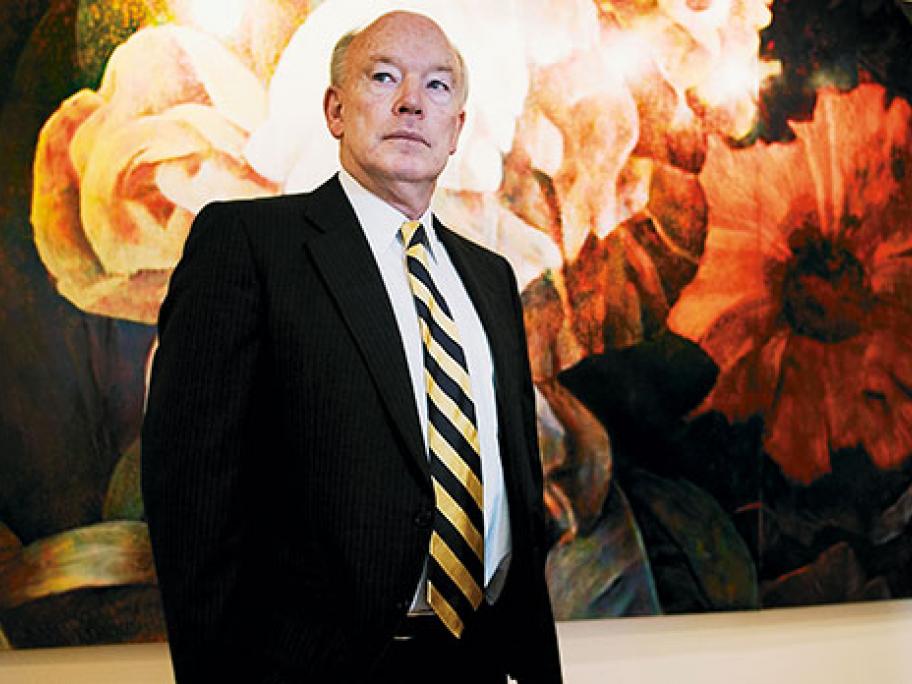 The first story from Dr Edmund Bateman makes me laugh.
The Primary Health Care boss is talking about Dr George Quittner, the Sydney GP who for the past 20 years has railed against corporate medicine like an Old Testament prophet, saying it is an evil force that is slowly consuming the soul of the profession. Dr Quittner hates it so much, because of its alleged attack on the sanctity of the doctor-patient relationship, that he has described it as a brothel, churning through the punters for profit.
But George speaks to Ed and Ed speaks to George — by telephone. They seem to have known each other for a long time. For several years, Bateman's revenge has been to tease Quittner by offering increasingly vast sums of money for him to come and join the corporate world of Primary Health Care. Both men are reluctant to name hard figures but the price of Quittner's soul is currently somewhere in excess of $700,000.
"I'm just hoping the bugger never says yes," Bateman says. "He'd be a bloody menace."
---
Related:
It is no secret that Bateman is not keen on publicity. He doesn't do interviews — at least not until this one. In 2005, Australian Doctor named him in a special series as one of the top 10 most influential people in general practice alongside the likes of Federal Health Minister Tony Abbott and Professor John Murtagh. A profile was pulled together from the sketchy biographical details available, with references to the enormous wealth he has amassed over the past 20 years. Business magazine BRW claims he is worth about $340 million — putting him at number 86 on Australia's rich list.
Until the interview for this story, only one photograph could be found in Australian news archives — a grainy imprint apparently snatched during the stock market launch of his company. Whether he's conscious of it or not, Bateman's elusiveness has only fuelled gossip about him, gossip that is usually rooted in one question: how has one of the profession's own turned general practice, the underfunded, sometimes forgotten side of medicine, into gold?
Bateman's office is at Primary's medical centre in inner-Sydney Leichhardt. It's a huge building of glass and concrete, incongruous amid the surrounding 1930s houses. The Primary logo runs across the front and inside the reception area is wood panelling and chrome.
Up the stairs is the Primary head office. Nothing excessive — a boardroom with boardroom-style paintings and Bateman himself.
Like many doctors, his choice of career was probably linked to his parents. He is the son of a physician who thought about becoming a vet but opted for medical school at the University of Sydney. Then it was general practice and although it sounds as though he fell into it rather than dreamed about it, it is a choice he has never regretted.
Bateman says the formative experience came shortly after graduation when he worked at the Mater Hospital in North Sydney during the 1960s. The Mater offered comprehensive care that sounds like the one-stop primary healthcare model that today is sold as the future of the profession. There were X-rays, physiotherapists, an outpatient clinic and an on-site pharmacy. Bateman says the Mater provided the "stimulating form" of practice that GPs — urban GPs in particular — were at that time gradually being denied.
"They were closing down hospitals to GP obstetricians," Bateman explains. "They were closing down hospitals to GP anaesthetists. The councils were doing childhood vaccinations. There were clinics that looked after antenatal and postnatal care for mothers. In the city it became much narrower in what GPs did. I always enjoyed doing everything. [But the other specialties] wanted to move GPs out and as a GP I realised that we lost something of value."
Bateman eventually went into solo practice for 10 years. His life-changing moment came late — when he was told at age 45 that the building where he worked was going to be knocked down.
"There were other premises down the road and they asked me, 'Do you want it?' I actually contemplated retirement."
---
He struggled to find doctors to join him. Many were unwilling to work after hours and weekends. So he started recruiting friends. As a further incentive he offered the 20 or so doctors who eventually signed up a share in the company — 5% each. His thinking was to spread the risk if the enterprise sank but also to share the rewards if it didn't. "I figured if I was sharing the whole thing with them then they would be contributing a lot more."
One said yes, one doctor took half and the rest said no. Today the man who said yes to the full offer —Dr Michael Christie, now a Primary director — is worth about $40 million.
"All the others — I don't like to remind them," Bateman says with a wry smile.
When the clinic opened its doors in 1985, Bateman says his main concern was to avoid going bankrupt.
"It wasn't as though I was going in thinking I was going to make a fortune. The rent was $360,000 a year for the space. The year before my gross income would have been less than that. My concern was to survive — to try and at least make the rent."
The public face of corporate medicine at the time was Dr Geoffrey Edelsten.
Edelsten was living a life of high-rolling luxury, pictured in the gossip columns in his helicopter, accompanied by his model wife. His business was still a few years from collapse, he was still a few years from jail — he would be convicted after soliciting a hit man to assault one of his patients.
But while the contrasts between the two men verge on the comic, both understood the extent of unmet demand for easy-access, bulk-billed medicine. Bateman's Brookvale clinic was immediately successful — even without the chandeliers, gold fittings and grand pianos that furnished Edelsten's surgeries. Bateman says the success was also because he was open seven days a week with after-hours access and no appointment systems — just walk in. From a business perspective the formula sounds idiotically obvious, so why wasn't everyone doing it?
"There were a lot of people comfortable doing what they were doing. In [my old] practice we used to put the fees up every six months — a dollar or just what people could wear. It was a game — more about whether we put our fees up or wait for the guys down the road.
"That was a comfortable life for a lot of guys. If you are in your 50s and 60s, you are not at that stage of wanting to work Saturdays or Sundays, never mind working midnight to dawn."
---
Bateman's business has grown since then, but there have been other points when he again considered retirement. He sold 20% of the business to venture capital company Advent 11 years ago with a view to getting out.

Primary Health Care's corporate office in Leichhardt. Photo: Getty Images
When his bank suddenly came knocking for repayment of a $14 million overdraft, Bateman says he reluctantly decided to float the company on the stock market. Again driven by necessity, it proved a huge success. The figures are no doubt outdated now but two years ago, Primary GPs were responsible for an estimated four million GP consultations a year.
But while business leaders praise him for his acumen, the suspicion of corporate medicine has never gone away within the medical profession.
Last year an Australian Doctor survey of 1320 GPs found 23% believed corporatisation had caused "serious damage" to general practice. While the corporate sector continues to grow, the concerns run deep.
Part of it is about who will end up owning the profession. The Byzantine complexity of Medicare — the care plans and the proliferation of item numbers — is now so great that the golden age ideal of GP practice ownership is being lost. Or at least that is the claim. The argument is simple: corporates grow as a Darwinian response to the bureaucratic bloat of the system. They have the infrastructure to adapt. But there is that other disturbing question about whether businesses, accountable to shareholders seeking profits, might interfere with the medical profession's clinical independence.
"I like making things and making them bigger and better" - Dr Ed Bateman, Primary Health Care founder
Bateman has always dismissed such claims. He is explicit: no, there are no targets for Primary GPs, not for care plans, not for patient throughput, not for pathology referrals. Primary's doctors, he says, are free to practise medicine in the way they see fit.
"If they want to see two patients an hour or six, it's up to them. I couldn't make them change even if I wanted to."
It's probably important to stress that Australian Doctor has received few complaints from corporate GPs themselves about their working conditions over the past 10 years.
But one Primary GP has contacted the magazine on the condition he remain anonymous. Like many Primary doctors, he was paid a substantial lump sum to join up — between $200,000 and $300,000 for a five-year deal working a fixed number of hours a week. There is no question he is unhappy with his plight. He sees his working life more as an employee, clocking in to work his contracted hours. He claims his 'regular patients' have stopped coming and he is desperate to get out. "I count down the days."
But his clinical independence has not come under threat.
"I can see as few or as many patients as I want," he says. "There is no interference on that level. You can do as a doctor what you want. And I've never felt any pressure, any expectation that somehow there are targets for care plans. There are doctors who work hard, that earn a lot of money — Primary allows you to make money — but the decisions are for individual doctors."
Bateman says: "If George Quittner came here tomorrow, he wouldn't practise any differently."
---
The portrayal of corporate medicine is a product of ignorance, pushed by doctors who have never worked in the corporate sector, he says.
Whether all this extends to a vindication of corporate medicine is a difficult question. Medicare Australia doesn't collect claims data on the basis of a doctor's practice — so there is no corporate picture showing if a disproportionate number of corporate doctors over-service, or do care plans or avoid the less well remunerated counselling and aged care end of general practice.
For supporters and sceptics, robust evidence on the nature of corporate medicine does not exist.
The explanation for Bateman's transformation from suburban GP to multimillionaire entrepreneur is hard to find. There doesn't seem to be an easy split in his own mind.
"I still think of myself as a GP," he says. "It's probably misplaced. I still, for example, do some work and supervise our audiology clinics. It's only at the periphery. I would never pretend that I'm practising as a GP. If I have got something to contribute I think of it as to the benefit of general practice.
"As for business — business is part of general practice. To survive you have to make a dollar and be professionally independent. If you are not making a living out of what you are doing you are totally dependent on the next person that walks in and demands a medical certificate."
He is now 65 years old, the age at which rich men think about comfortable retirement. But for Bateman it's unlikely. "I didn't think that retirement was something that I would look forward to. I like making things and making them bigger and better. I've always had a view to getting out. Every time we get bigger it's the same excuse. But the reality is that you get tied in more and more — so it's just a role without a pre-determined idea of what we are going to do."
And as he says many times during the interview about the growth of the Primary empire, there was no grand plan, no overall vision: "It has just evolved."
Dr Bateman will be buried in a private funeral service at St Mary's Church in North Sydney on Tuesday September 22 at 10.00am.
Paul Smith is Australian Doctor's deputy editor.