What you need to know about Pharmacy of the Year winners
The health minister will announce the overall champion at APP this week
The Pharmacy Guild has announced the four category winners of the 2019 Guild Pharmacy of the Year awards.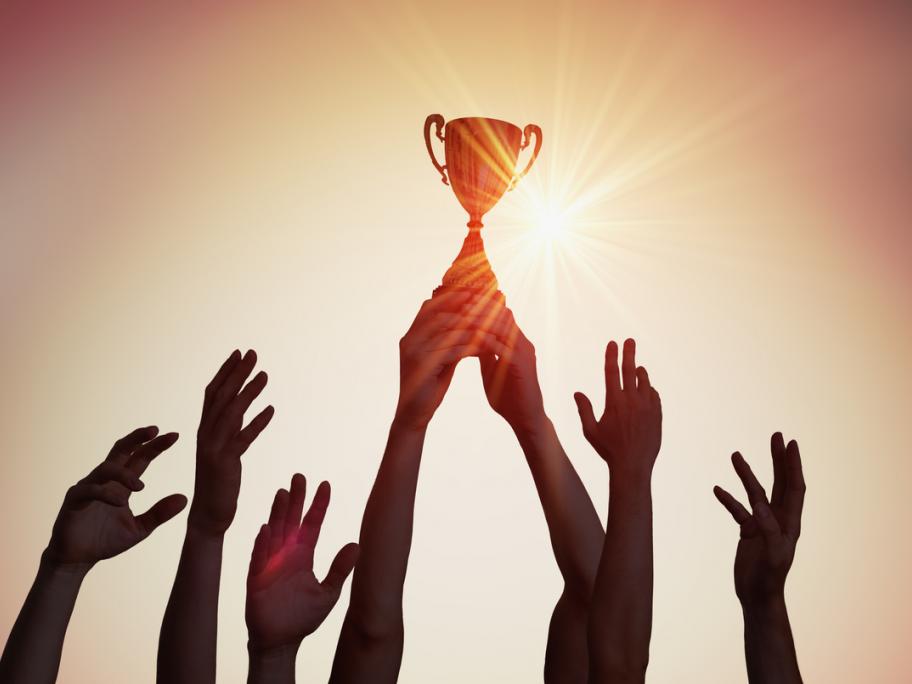 They are:
Flannery's Pharmacy, Forbes, NSW: Excellence in Business Management (Named Pharmacy of the Year on 7th March 2019).
Harding's 24-hour Pharmacy, Annerley, Qld: Excellence in Professional Innovation. 
Pharmacy 777, Glengarry, WA: Excellence in Community Engagement, Collaboration and Partnerships.
Wilkinson's Pharmacy, Burnie, Tas: Excellence in Community Engagement, Health Services.
Below we highlight the achievements of the four:
---
Flannery's Pharmacy, Forbes, NSW
Proprietors: Sarah Hazell (front, third from left) and Michael Flannery (front, fourth from left)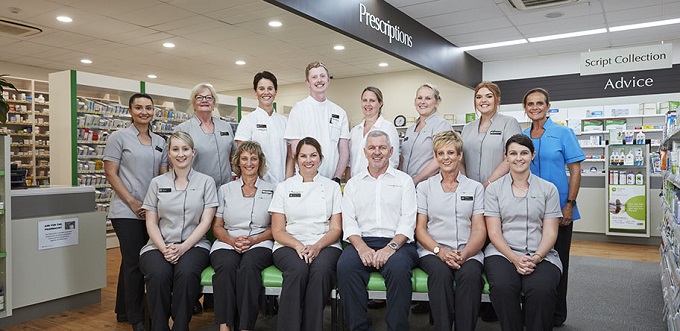 Achievement: Reduced the impact of rural doctor shortages, often becoming the first port of call for locals needing healthcare.
How they did it
The pharmacists offer health services and the pharmacy provides sessional space for visiting podiatrists, physiotherapists, speech therapists, audiologists, occupational therapists, diabetes educators and other allied health professionals.
The proprietors commissioned a significant refurbishment of the 60-year-old pharmacy, after their strategic plan showed they needed more than two consulting rooms to enable growth.
The pharmacy now has four consulting room, with two most commonly used by the pharmacists, interns and nurses. Another, dubbed the 'Gold Standard Consult Room', contains a sink, consulting bed, desk and curtain, and is used by other health professionals.
"This has been very successful, and our patients really appreciate the services that are provided through that room," says co-proprietor Sarah Hazell.
The fourth room is a community room and provides a space for parents to feed, change or weigh their baby. It's a welcome addition for families on the land who may have to travel an hour to visit the pharmacy.
Local doctors have been supportive of the pharmacy's focus on professional services.
Ms Hazell says they realise that the pharmacy always refers patients to doctors when needed.
"Acceptance from our doctors was reflected in our vaccination program, which had no opposition at all. The doctors can't keep up with demand for their services, so we are just helping them meet the needs of the community."
Advice to other pharmacies
Be willing to adapt to change and make the most of the 6CPA professional services, which can help consolidate a pharmacy's future, says Ms Hazell. Moreover, be willing to invest in people, she says.
"Regular communication with our team ensures they understand our vision and direction. When setting goals or implementing change, our team is engaged to deliver as they understand the reasons why.
"Our team is encouraged to regularly communicate with managers about any concerns or business ideas they may have."
---
Pharmacy 777 Glengarry, WA
Proprietor: Tina Pasyar (front, left)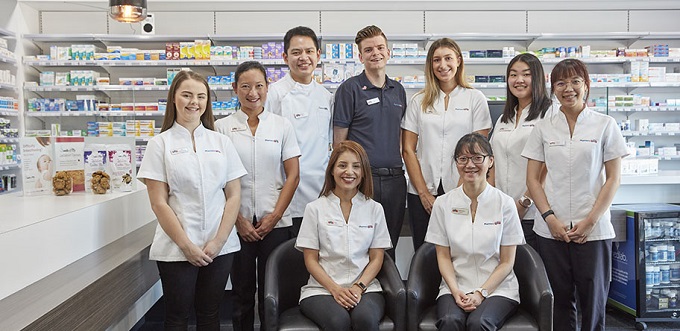 Achievement: Increased patient numbers by adding professional services, and renovating the pharmacy to brighten up the dark and dated interior.
How they did it
Before its makeover, the pharmacy offered no professional services, was closed on Sundays and did limited Saturday trading.
The pharmacy now has a consulting room and trades every day. It offers services such as medication management, pain management, weight management, women's health, wound care and complementary medicine.
A human resources restructure has also allowed pharmacists to engage directly with patients.
"The immediate response to this change was very successful, with average patient numbers increasing strongly in our first year," says proprietor Tina Pasyar.
The pharmacy's strategy also includes strong support for community groups and schools through volunteer work, health sessions for students and parents, care packs, fundraising and health promotions.
"Providing patients with coffee vouchers for neighbouring cafés has turned a short wait into a community engagement opportunity and in turn, local businesses are advocates for our services," says Ms Pasyar.
The pharmacy hosts a mother's group every other week and has a close relationship with the local maternity hospital, she says.
"We are widely recognised for our commitment to the community — both within and outside the pharmacy walls."
Advice to other pharmacies
Knowing your patients well is key to understanding what services the community needs, says Ms Pasyar.
This understanding of the patient will build your brand as a local health destination.
"This slowly builds up the services that are then relevant to the local community."
---
Hardings 24-hour Pharmacy Annerley, Qld
Proprietor: Russell Harding
Co-managers: Heidi Paech (front, third from left) and Chetna Patel (front, fourth from left)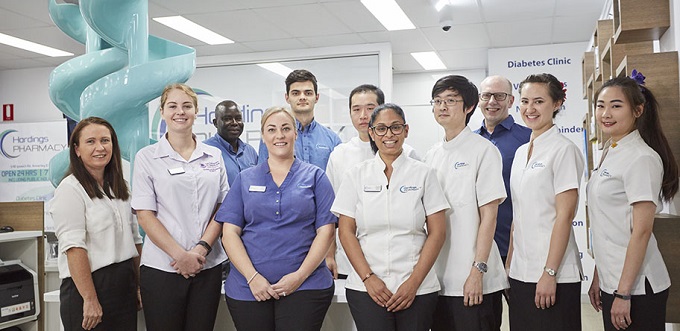 Achievement: Overcame competition from two discount pharmacies by extending operating hours and being passionate about offering professional health services.
How they did it
Becoming a 24-hour pharmacy and participating in community events, particularly those that focus on health promotion, have all helped the pharmacy become a one-stop health hub, says co-manager Heidi Paech.
The pharmacy has begun offering free professional services during national awareness week events, she says.
"We also invite other allied health professionals to the pharmacy to engage with our customers and offer them complementary screenings and services.
"We have risen above the challenges of the competition and proven ourselves to our community that this is the place to come."
The pharmacists attended wound-care training seminars and hands-on workshops, which has allowed the pharmacy to open a wound clinic.
The pharmacy's credentialled diabetes educator regularly presents at local patient seminars attended by other allied health professionals and a second pharmacist is undertaking training to become a diabetes educator.
The pharmacy also supports a variety of charities and has developed a loyalty program that allows customers to donate their rewards dollars to Canteen.
The commitment to service and patient needs has enabled the business to compete effectively with two discount pharmacies with greater buying power for more than 10 years, Ms Paech says.
Patients don't expect the pharmacy to match the discounters, she says.
"They know that our service far outweighs any price advantage the competitors have. Our patients focus more on our service model
than price."
Advice to other pharmacies
Professional development for staff is critical to the future success and sustainability of community pharmacy, Ms Paech says.
Hardings holds staff meetings during the year to allow people to be actively involved in critical decisions about the direction of the business, she says.
"This helps to create a sense of ownership and appreciation for our high level of professionalism and service.
"The business also invests in many training opportunities, both online and as practical training sessions, to further develop the knowledge and confidence of our pharmacy team.
"Our pharmacy staff attend various conferences and specialised training opportunities, both locally and nationally, subsidised by the business."
---
Wilkinson's Pharmacy, Burnie, Tas
Proprietors: Jack Muir Wilson (front, left), Diane Kerr (front, centre) and Heather Wild (front, right)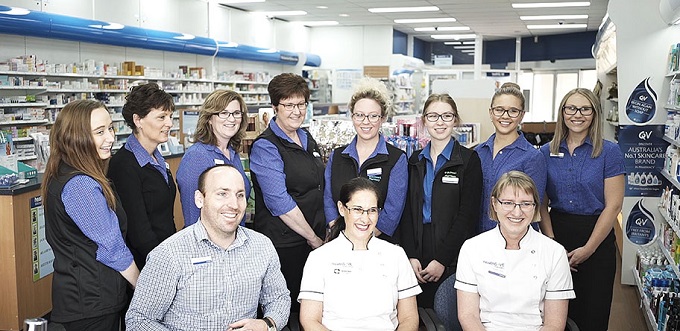 Achievement: Grew the business by filling gaps in disability and IVF care.
How they did it
Listening to community members allowed the pharmacy team to identify there was a lack of support and education around medication information for people with disabilities.
After linking in with local care providers, the pharmacy began offering basic information sessions, including safe medication disposal, medication reviews and dose administration aids.
"We started with free educational events and we are now 12 months down the track, packing medicines and providing real solutions for a considerable population of people and most of all, we are seeing improved health outcomes," says co-proprietor Jack Muir Wilson.
"We have organisations wanting to work with us because they know we have a 'go the extra mile' attitude."
Similarly, the pharmacy team identified that IVF patients were isolated, given Burnie's location on the north-west tip of Tasmania.
This meant IVF drugs needed to be couriered to patients undergoing fertility treatment.
The pharmacy invested thousands of dollars on extensive staff training so it could start supplying the drugs to these patients.
"Our patients are greatly appreciative of this service and come back to tell us they are pregnant. And we are now helping them on that journey," says Mr Muir Wilson.
"They will be loyal for years to come because we are looking after them, and reducing their costs and barriers of access to these services.
"We believe in identifying health-related markets that are not necessarily associated with or relying upon price competition. By securing this work and doing it extremely well, our business is able to grow and increase its security long-term."
Advice to other pharmacies
The pharmacy puts its success down to commitment and lots of extra hours to plan, execute and continuously monitor and modify what it does.
"It is about having a fluid model whereby nothing is set in stone, and hiccups are merely a learning curve and are ultimately in the business' best interests," says Mr Muir Wilson.
But identifying new health markets doesn't mean pharmacies should focus on providing red-carpet treatment for new customers.
"There is no point thinking about the future if you've moved on from one project to start another, and now don't have the time to continue the initial service as promised."