Murder, riots and a GP's extraordinary after-hours consult
Without doubt, he and his wife saved those people's lives, says colleague
On New Year's Day, Tim White was out travelling in the bushland of Cape York, organising a camp for troubled young Aboriginal men in the remote town of Aurukun when he realised something was wrong.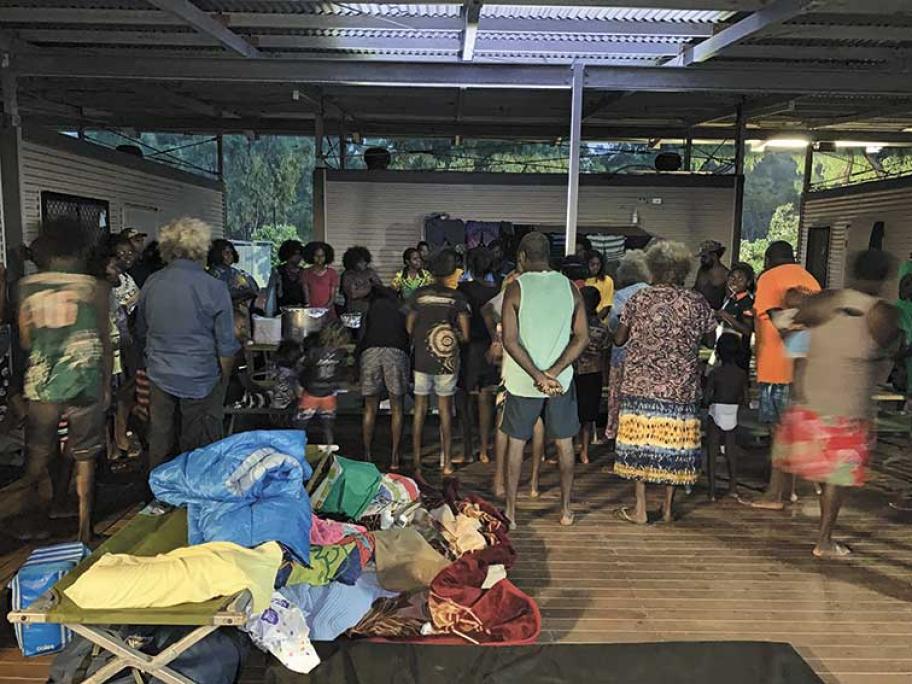 Townspeople from Aurukun are pictured at a makeshift camp run by the Kapani Warriors.
"I was with one of the guys scouting for a place to pitch but as we drove back into town at mid-afternoon, we were met with chaos — a mob of 200 blokes running around with iron bars, star pickets, axes in their hands," Dr White (PhD) said.
"My friend said, 'This doesn't look good'. I pulled over to ask someone what was going on and they said a man had been murdered and his family were retaliating.
"From that point, things really escalated."
It would be fair to say Dr White has experienced conflict before. He is an army veteran, once deployed as an infantry signaller in Somalia, when civil war raged there back in 1993.
He also spent seven years as a police psychologist, during which time he was involved with the 2004 Palm Island riots.
It wasn't immediately obvious to him — as he was told of the mayhem engulfing Aurukun — that he would soon be taking responsibility for the welfare of 130 terrified people fleeing for their lives into the surrounding bushland.
"The murder on New Year's Day — it was an absolutely horrific murder," Dr White said.
As the men rampaged through the town, fuelled by sly grog, they began looting the homes of the families they believed were behind the attack, dragging belongings out into the street to burn them.
"The families of the men accused of the killing thought at least one of them would imminently die," Dr White said. The mob had a list of people they were prepared to kill to settle the score.
Worried they would torch the houses with people trapped inside, Dr White went into several buildings to see if anyone needed help getting out. He knew a three-week-old baby had been in one home.
He found no one — the inhabitants had vanished.
"I went to the police station, but they were in lockdown — the doors bolted, the fences chained. There was little they could do. They were outnumbered, and the crowd was so fired up."
So he decided to track down those who had fled. At dawn the next day, he put the skills learnt from his military days to use.
"I jumped in my little amphibious vehicle, and, after about an hour, picked up the trail of what I thought was about a dozen people.
"I tracked all day and couldn't think of where they were going.
"Maybe to the Weipa turn-off? But that turn-off was 110km away and I thought, 'It's boiling hot; they're going to die'.
"I went back to the police station and a couple of people had sought shelter there. They asked me to take them to an abandoned cultural site where ceremonies were held. So that is where we headed."
Dr White took a truck, along the way picking up 60 people from the roads, then another 40.
"They were hiding in the bushland — we started seeing this trail of people who initially were afraid to come out to the road, but then were being waved out of the bush once they saw we weren't the mob hunting them."
Then a few more refugees from the violence trickled in to the camp, which was made up of little more than three shipping containers with a steel awning, two broken septic toilets and a battered generator.
"We were in possession of about 130 traumatised, really frightened, medically unwell people," Dr White said.
---
Dr White is a co-founder of the Kapani Warriors, a group that employs veterans who have experienced PTSD to run camps for young Aboriginal men in danger of being pulled into violence and aggression, from communities with long exposure to deep trauma.
Some of his Kapani colleagues arrived to help organise the group — building fires, cooking, cleaning. They even got one toilet working.
This was the start of what would become an 11-day encampment.
But medical care was forefront in Dr White's mind.
"We had old men and women there, young children, insulin-dependent diabetics.
"One chap with a heart condition, and I even had a woman at the tail end of chemotherapy for lung cancer who was incredibly frail. I had newly born babies — it was overwhelming.
"There was a young girl in particular I feared for. She had a horrific carbuncle on her head and it was hot, sweaty, and there was limited water to wash in.
"This thing started to dance all over her head."
The confronting issue was that Queensland Health had, by this time, issued a Code Black for its staff, signalling a personal threat to safety. Anyone working for the Aurukun Health Service, which has a facility back in the town, was told to bunker down. Or, if they had found themselves elsewhere, not to return.
"So, on the third day in the camp, I had to resign myself to the fact that Queensland Health were not coming," Dr White said.
"The official view seemed to be we could take anyone who needed medical attention back to Aurukun to the health centre.
"But no one was budging from the camp — they were all too afraid of the mob finding them. They said, 'I'll take my chances with diabetes, rather than a star-picket through my head'."
But Dr White was convinced there would be deaths in the camp without medical help.
"We were doing a headcount every morning to see if everyone was alive," he said.
A 'rogue' GP and his wife take a trip
So, he called a GP friend, based across Cape York, 900km away in Cairns.
"I rang and I said, 'Mate, I'm in a bit of a situation here'.
"I wanted to ask what medicine I needed to get my hands on and then he started asking me to describe the health problems in the camp."
A discussion on the other end of the line could be heard: the doctor was talking to his wife about what was happening. During their time in Aurukun, they had cared for many in the community. They knew what was at risk and soon realised if no one intervened now, it would be too late for many of their old patients.
So, without official sign-off, they decided to make the trip themselves.
They bought jerry cans and filled them with fuel, along with drinking water, nappies of various sizes and food for the camp.
A local pharmacist agreed to stay late to help the GP pack the medications they needed: insulin, antibiotics, antihypertensives, asthma inhalers, bandages and dressings, and surgical equipment.
In the end, the journey took them 12 hours, a vast drive across the lumps and bumps of Cape York, through creeks and floodwaters, rattled along the dirt roads, snaking through the Australian outback.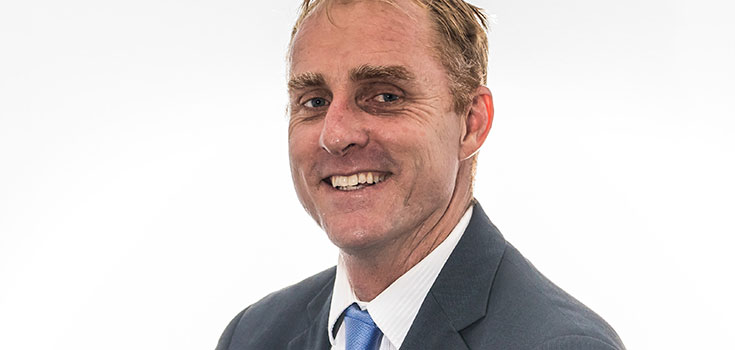 ---
"They finally turned up in this bloody Toyota RAV4," Dr White said.
"Totally unsuitable for what they were doing. I was laughing but they just burst through the mud and the rain and I just hugged them and said 'un-f---ing-believable.
"I was nearly in tears.
"The doctor passed it off, saying something like how, when he went through his internship, they usually didn't sleep for a week at a time.
"He's a nonchalant little fellow and he kind of rolls out of the car and goes, 'Right, let's get into this'.
"Without a doubt, he and his wife saved those people's lives."
The GP and his wife, who want to remain anonymous because of the political repercussions of what they did, knew many of them.
There were patients with diabetes who had been off their insulin for four days, now at risk of a coma.
The doctor and his wife distributed food and water, administering a Bicillin LA injection for a patient with rheumatic heart disease, and dressing wounds and infections.
They stayed until 6pm that evening.
"With monsoonal rains soon to hit, I said to him, you either need to hurry up and leave or you won't get out at all.
"So he educated me and my boys about what we could do with the medical supplies, and dispensed the relevant medications.
"My boys have had training as army medics, so I think he felt reassured by that at least."
The official response
As news of the riots filtered back through to the media, the Queensland Government's message at this time was that it was confident in the police's ability to restore calm.
Many of Aurukun's population — about 1200 in total — had left to stay in Coen, a village a few miles away. Health workers had arrived there to help. But conditions were tough. There were reports of 40 people forced to live together, sharing a tiny house with just one bathroom.
Yet, many more chose to remain in the bush camp.
"The idea of order returning was not the perception. They believed they were being hunted down, they were terrified that people would suddenly appear out of the bush and hack them to death."
Dr White was not the only one worried about the inadequacies of the official response.
Murrandoo Yanner, a former CEO of Carpentaria Land Council Aboriginal Corporation and usually described as the Malcolm X of Cape York, alleged there had been virtually no response until well over a week after the riots. To him, it was a human rights betrayal.
"Both sides of Parliament should be hanging their heads in shame. I'd be ashamed to go out in public if I was them. It's disgraceful — letting people who need dialysis rot away and die in the bush.
"This is a human rights issue — nothing to do with race, the riots or crime. Letting people with immediate medical needs and housing needs stay out in the bush is criminal."
Dr White said on day 11, the government officials finally came out to encourage the group to return to their homes in Aurukun.
"They refused. They were still fearful.
"The government runs a school in Weipa and they have a boarding facility, so we said we would transport them and, from there, the government would have a bus to take them to the school. So that is what happened."
The aftermath
"I had nightmares every night afterwards. I would wake up thinking I'd left someone at that campsite," Dr White said.
"I know that if we had not been there during the riots, if we had not managed to find these people and help them with some sort of refuge, they would have met a bad end.
"They would have either returned to the Aurukun community and become targets of that mob or they would have perished in the bush. The [Cape York] environment is just too hostile.
"What happened on New Year's Day is not something I expected to see here in Australia.
"I served in Somalia many years ago and there were a lot of similarities with villages we saw, where clan groups would attack and the people would flee into the bush and a lot of those people would die.
"We would come across whole populations of people who died in the bush, and wild animals had scavenged over their bones."
At the time of writing, Dr White said few of those displaced had made that final return to Aurukun — they remained dispersed, homeless.
Since the riots, 23 people have been charged with numerous offences, including arson.
Two teenagers have been charged with the murder of a 37-year-old man.
Wik leader Bruce Martin has also been asked to facilitate inter-clan remediation.
And police numbers in Aurukun have been increased.
But the mood in the town remains tense. Dr White believes more riots will follow in the aftermath of the funeral for the dead man, due to take place on Friday, 14 February.
"The consensus in the community is that the funeral will be a flashpoint for the deceased's family to vent their anger," he said.
"There's an idea that everything will be reassessed after that."
Dr White said he had met with some of the groups in town, including the family of the murdered man.
"We did a gathering to talk about the future. Not one of the young guys wants any of this business, the violence and fighting.
"They want to get out, do something positive. The rhetoric was 'I want to leave the community, make good, but I want to return when I've acquired knowledge, and return in a positive way'.
"That's where the future of Aurukun is — in those young people.
"That's where my hope is."
---
History of a troubled town
Aurukun sits around 830km northwest of Cairns.
A former Presbyterian mission town, many of its population of roughly 1270 people belong to five clans: the Chara, Winchanam, Apalech, Puutch and Wanam groups.
There is a history of violent disputes between them, including the alleged murder of a young man in 2015, who was killed when run down by a car.
The New Year's Day riot was apparently fuelled by the 'sly grog' flowing into the town — a dry community where no alcohol or homebrew and homebrew equipment is allowed.
"I don't think these fellas set out intending to kill — it was an absolute tragedy, the whole thing," Dr White said.
"I think it was a spontaneous act committed amongst a population that have had a lifelong history of exposure to trauma and violence, reactive behaviour and poor impulse control, and little-to-no mental health support.
"It was a consequence of the broader environment."