Why Greg Hunt and Brendan Murphy deserve our thanks
Editorial comment: The soaring COVID-19 death rates elsewhere serve as a harsh reminder of what has been achieved
Australian Doctor says 'thank you' to the nation's politicians and their numerous medical advisors for their actions in protecting the country from the COVID-19 pandemic.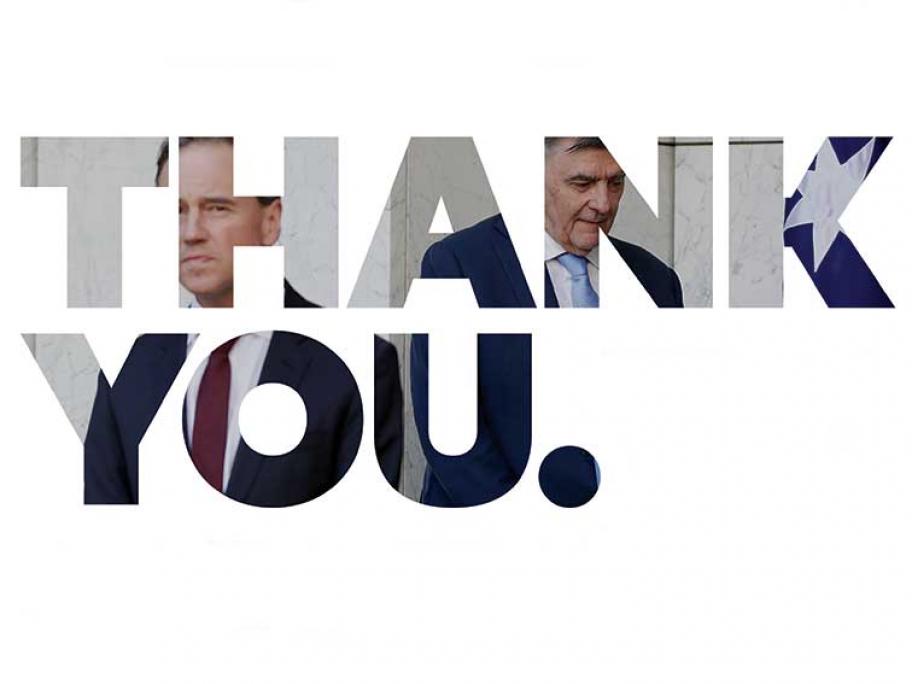 It could have been so very different, says editor Paul Smith.
---
"It remains a sad truth that to write in praise of politicians often feels like committing an unnatural act.
Cynicism it seems is the ruling ideology of our times.
But what has been achieved by Australian politicians in protecting this country since COVID-19 began to make its global journey should be acknowledged.
Thousands of lives have been saved by their actions.
You hear arguments constructed about the 'lucky country' benefiting from its tyranny of distance and about the news reports from elsewhere that were an obvious clue to what was looming.
But these sentiments rely on a blindness to the complexities of the real world, where hindsight doesn't apply.
For the Federal Minister for Health, Greg Hunt, the decision on 1 February to close the border with China on the advice of Chief Medical Officer Professor Brendan Murphy was among the biggest decisions an Australian government has made in the last 50 years.
The WHO, yet to declare a pandemic, was saying it was unnecessary. The government was accused of xenophobia.
Then, in the days and weeks that followed, sizable chunks of the economy disappeared through a hole in the ground with the increasing social restrictions. 
Again, in the beginning, there were understandable protests. The politics were intense.
But you can measure the importance of what was done by looking at the acts of leaders in other countries.
Perhaps the chaos of US President Donald Trump is best ignored. However, Brazil, whose president believed the pandemic was little more than a "media trick", Sweden and the UK all provide alternative case studies.
Even as he fronted a press conference on 12 March talking of the "worst public health crisis for a generation", UK Prime Minister Boris Johnson introduced no tough measures, no lockdowns, no closed schools and no ban on mass gatherings. Flights were still arriving from China.
The four-day Cheltenham horse racing festival — which attracts a crowd of 250,000 — went ahead undisturbed. It has become the country's Ruby Princess moment. But this was policy, not a blunder.
At the time, Mr Johnson's government was flirting with a herd-immunity policy — at least until ICUs were swamped with people needing life support.
To date, more than 37,000 people have died in the UK.
A version of this strategy, of course, still runs in Sweden, where despite its government's attempt to limit the spread only to those deemed low risk, thousands of vulnerable people, mainly the elderly, have become mass casualties.
While every COVID-19 statistic warrants a long footnote, Sweden now has one of the highest COVID-19 death rates in Europe.
But here, the political judgements were swift. There were no dalliances with the herd immunity approach. The response was a blunt 'no'.
---
Read more: 
---
Doctors and nurses working in hospitals, GP clinic staff, along with the minimum wage aged-care workers, have much to thank the people behind that decision.
They would have been the ones risking their lives and managing the resulting deaths if its alleged mathematics had been accepted.
Gratitude should also be extended to the numerous chief medical officers and their teams.
In politics, given the toxic mix of personality and power, relationships function at a very human level. They can be fraught, brittle and fracture under pressure.
This has been a crisis where the science itself has shifted rapidly day-to-day and week-to-week, but the advice of the experts in this country, uncomfortable as it often was, has been accepted by the politicians.
"We had established very early in our relationship that his duty was to provide fearless advice, and he didn't need much encouragement because that's who he is naturally," Mr Hunt said of Professor Murphy last month.
This applies in other states and territories with people like Victoria's Chief Health Officer Professor Brett Sutton and his counterparts in Queensland and NSW, Dr Jeannette Young and Dr Kerry Chant.
It means decisions around easing social restrictions, now that infection rates are so low, still lie with these health officials, who largely dictate the process despite the enormous social, economic and political pressures to let life return to normal.
Huge issues still lie ahead, of course — as fraught as any other public health conundrum resulting from a virus whose nature has become much clearer since it was first detected in Wuhan.
Heavy damage on the lives of the vulnerable and particularly the young resulting from mass unemployment and the coming recession, is only beginning.
But the country is still in one piece thanks to its leaders. Looking at what has happened elsewhere, that is worthy of much respect."
Paul Smith is Australian Doctor's editor
---
We have compiled a list of resources to help GPs combat coronavirus, which can be read here. Or, click here to read the rest of our coronavirus coverage.